Elementals Massage is now open in their
new location
After spending the last 3 years perfecting her massage therapy craft at Mind Body's massage clinic as one of the resident LMTs, as of March 1st, Tammy Dunn and Elementals Massage has moved into their new location at The Healing Center at 223 Donelson Pike.
The Center also includes, One2Yoga and the Aromagregory retail store. Now offering massage therapy, the Center is a one-stop shop for healthy living.
Massage therapy has been utilized for thousands of years to promote and restore good health. With all of the stresses of modern life, massage therapy is more important now to a healthy lifestyle than ever.
According to the Mayo Clinic, "Massage therapy is generally considered part of complementary and alternative medicine. It's increasingly being offered along with standard treatment for a wide range of medical conditions and situations.
Studies of the benefits of massage demonstrate that it is an effective treatment for reducing stress, pain and muscle tension. While more research is needed to confirm the benefits of massage, some studies have found massage may also be helpful for: • Anxiety • Digestive disorders • Fibromyalgia • Headaches • Insomnia related to stress • Myofascial pain syndrome • Paresthesia and nerve pain • Soft tissue strains or injuries • Sports injuries • Temporomandibular joint pain
Beyond the benefits for specific conditions or diseases, some people enjoy massage because it often involves caring, comfort, a sense of empowerment and creating deep connections with their massage therapist." Despite its benefits, massage isn't meant as a replacement for regular medical care. Let your doctor know you're trying massage and be sure to follow any standard treatment plans you have.
"More than an indulgence, massage therapy can help you sleep better, boost your immune system and reduce aches and pains."
by Judy Jones
For the past few thousand years, the Western world has largely resisted the notion that a procedure as noninvasive and, yes, pleasurable as massage could have a significant healing effect. Finally, however, clinical centers throughout the U.S. are taking a closer look at massage's medical benefits. One of the researchers most responsible for this change in attitude is Tiffany Field, PhD, who in 1992 founded the Touch Research Institute at the University of Miami School of Medicine, the first major center devoted to studying the healing potential of touch. Over the past 30 years, Field has written 20 books and more than 450 journal articles on the subject, collecting the kind of hard evidence that makes the scientific and medical establishments pay attention.
As head of the Touch Research Institute, she has documented the effects of massage on a dizzying variety of disorders. We asked Field to tell us more about what she has learned in studying both healthy and unhealthy people.
For the entire article, go to:  http://www.more.com/health/wellness/health-benefits-massage-therapy
Our hours of operation are:
By Appointment Only
Monday Through Friday
1PM to 8PM
Saturday 10AM to 4PM
Please contact us to request appointments outside listed business hours
Our phone number is:
Visit Elementals Massage at: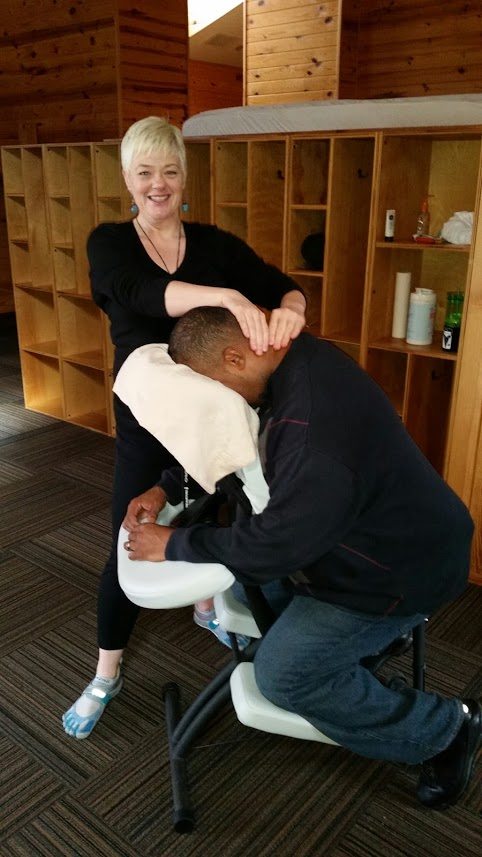 Read Tammy's interview with Career 2.0
Tammy was recently interviewed by Career 2.0 on her transition from travel agent to massage therapist
Career 2.0